Description
Instant cooling
Rechargeable with long battery life
Lightweight
Prevents heat stress
Prevents cardiovascular stress
Safety ensured
Easily cleanable
Long press for 3 seconds on the white dot to turn on the device
Long press for 3 seconds on the same white dot to turn off the device.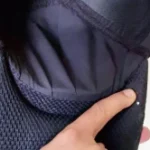 STEP 04 - Choose your temperature
To change the temperature settings on the device, simply press the temperature button once to set it to the desired temperature of your choice. The device comes with three temperature options:
Note
: The fan will run for 1 minute after you turn off the device and will come to an eventual stop.
STEP 05 Battery & Charging:
The device is programmed to auto switch off; however, if you want to switch off the device earlier, long press the "on/off" button once again to turn off the device.
The battery cannot be removed from the device.
If you notice a foul odour or swelling of the KÜLCAP, please discontinue charging and do not use the product. Please contact customer service immediately.
Do not overcharge your KÜLCAP. Once the device is fully charged, always remove the battery charger from the electrical power socket and disconnect the charging pin from your KÜLCAP.
Do not short-circuit the external contacts on your KÜLCAP or the battery charger.
Do not place any metal/sharp objects into the charging port.
Please do not disassemble your KÜLCAP, as this will damage the device and void the warranty.
While using your KÜLCAP, if the exhaust fan stops functioning or you feel the device overheating, immediately remove the KÜLCAPand turn it off. Please get in touch with customer service immediately.
Please do not charge the battery when your device is wet.
KÜLCAP is an integrated cooling system
that uses Climacon's patented technology

It removes heat from your forehead and makes you feel cool instantly and for an extended period of time.
Highlights of KÜLCAP Cooling Hat
Cools down your body temperature
It keeps you cool for a long period
Clinically proven to have no side effects
Lightweight, portable and rechargeable
3 adjustable user-controlled temperature levels for your needs
Available in 4 different colours
Uncompromised sound
with newly designed drivers
Rating 4.8/5 from Verified Users
Great cap!
The cap looks good and fits well! Does get cold and cool you off. All-in-all, happy with this purchase!
Loving my Kulcap!
The cap is designed well, is very comfortable to wear and certainly keeps you cool in warmer weather.
Great for Golf!
Very nice cap for the golf course and helps me keep cool and focus on my game.