Say goodbye to HOT FLASHES!
Innovative device that cools you down with just the press of a button.
Hot flashes can be disruptive, uncomfortable, and unexpected. No more! We have a stylish new wristband that helps you Cool down in seconds. With the KÜLKUF wristband, you can take control of your body's temperature with the touch of a button. No more breaking out in spontaneous sweats.
Cools you in less than 60 seconds

You get immediate relief and comfort
Works naturally with your skin & body
Non invasive, No drugs & No side effects
A smart thermostat recommended globally by doctors.
Instant relief from hot flashes and night sweats
Hot flashes are expected during the menopausal transition and can last for years, even a decade. Up to 80% of women experience hot flashes during this phase. Take back control over your body and live life just like before.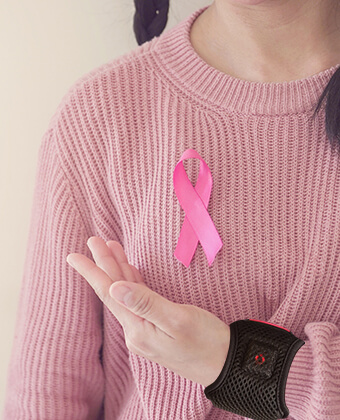 Relief from side effects of chemo
Hot flashes are a common side effect of chemotherapy and can last for the entire duration. 2 out of 3 cancer patients suffer from hot flashes even after they stop chemo. Manage discomfort from hot flashes and night sweats with our product instantly.
70%-80% of men experience hot flashes because of lower levels of testosterone. Your body produces less testosterone after the age of 40. Manage your hot flash in style with the KÜLKUF wristband.
Relief from hot flashes or night sweats in just 60 seconds.
No therapy, no wet towels, no fans
We have conducted many tests and trials for our patented KÜLKUF wristband. The results were staggering. 9 out of 10 women reported that hot flashes were eliminated within 60 seconds.
Hear from the experienced
Within 30 seconds, my hot flash was gone, every time. KÜLKUF really works!
KÜLKUF is something that I found helps me get through the hot flashes without having to take more medication.
It changed my sleep patterns. I'm able to get a good night's rest.
Within 30 seconds, it cools me down and I can function again
WOW, it stopped my night sweats and allowed for a good night sleep, just like you said it would.
Placing the smart cooling device on your wrist helps lower body temperature naturally. Reach up to three levels of instant cooling and enjoy a long battery life only with the dhamaEve.
Get free delivery and returns
One year replacement warranty